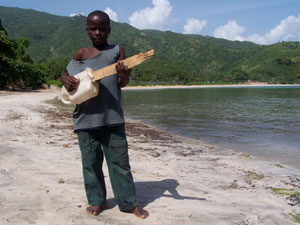 Free "Earth Day Celebration" events to bring together science, arts
Middletown, Conn., — Wesleyan University's Center for the Arts will present the world premiere of Dear Mother Earth: An Environmental Oratorio by composer Glenn McClure on Saturday, April 23, 2011 at 7pm in Crowell Concert Hall,located at 50 Wyllys Avenue on the Wesleyan University Campus in Middletown and live online HERE. The premiere will be performed by the Wesleyan University Orchestra conducted by music director Angel Gil-Ordóñez and joined by the Wesleyan Ensemble Singers, the Middletown All-City Grade 4 and 5 Chorus, singers from Middletown High School, and Ghanaian, Korean, Japanese Taiko, and Caribbean steel drummers from Wesleyan.
An excerpt of Dear Mother Earth: An Environmental Oratorio will be performed during the Wesleyan Earth Day Celebration on Friday, April 22, 2011 at 8pm in Crowell Concert Hall. The celebration will feature students and faculty participating in the College of the Environment's inaugural think-tank on the topic "Vulnerability of Social, Economic and Natural Systems to Environmental Stress". College of the Environment Director Barry Chernoff will introduce reports by Jeremy Isard (College of Social Studies), Dana Royer (Earth and Environmental Sciences), Phoebe Stonebraker (Biology) and Gary Yohe (Economics). The event will also include a performance by Gina Ulysse (Anthropology) in collaboration with composer/turntablist Val-Inc entitled Fascinating! Her Resilience about the significance of the word "resilience" in relation to the different narratives about Haiti in the post-earthquake cultural environment.
Admission for both events is free. For more information, please visit www.wesleyan.edu/cfa
or call (860) 685-3355.

Dear Mother Earth: An Environmental Oratorio was commissioned by Center for the Arts forthe inaugural year of Wesleyan's College of the Environment as part of the Feet to the Fire initiative, and was made possible by The Andrew W. Mellon Foundation. The Feet to the Fire program is dedicated to the proposition that a multidisciplinary examination that includes art will provide a more comprehensive and deeper understanding of these global issues.
The musical content of Mr. McClure's 40-minute oratorio is driven by environmental data related to insect diversity in local rivers collected by Wesleyan University students. The composer worked in collaboration with mathematics scholars to
create a translation equation that transforms scientific data into melodic and harmonic content – a musical model of the bio-mathematics concept of "emerging complexity".
The lyrics are drawn from letters written by children from around the world, including Middletown's Macdonough Elementary. These letters were addressed to "Mother Earth" and share each child's view of both the unique beauty and the challenges of their part of the world.  While some movements are based solely on one child's letter, other movements bring themes from multiple letters together, stretching from Ghana and Nicaragua to the classrooms of Middletown. Images of student letters and artwork will be projected during the performance of the oratorio.
"While each letter is unique, they all share the central themes of celebrating beauty, thankfulness, compassion and a call to action," said McClure.  "Just as a flock of individual birds turn together in the wind without any discernable leader, these children have expressed these themes in their letters and illustrations."